CT Shop Uses Mitee-Bite® Clamps for Close Tolerances, Difficult Holds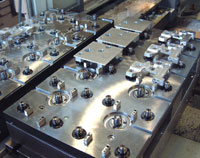 Quality Design & Mfg. of Oxford, CT has been in the machining business for over 20 years. The owners, Marty and Sue Martovich have recently developed a joint venture with Richard Grano. With the new management and change of direction, QDM moved to a larger more modern high tech facility to accommodate additional machinery acquired for larger production jobs.
One of these production jobs is an assembly for the medical industry. This assembly begins with machined aluminum housing that is difficult to hold because of the amount of material that needs to be removed. Marty's regular distributor, American Tool in Cromwell, CT recommended the Pitbull clamps by Mitee-Bite Products because of the aggressive stock removal involved. The size Pitbull clamp used has a 8-32 screw and grips the part by only .100 from the fixture surface, which was ideal for this application. The knife edge version bites directly in the material virtually eliminating ripping the part out by cutter force.
The first operation required a 1 inch roughing end mill running at 10,000 RPM with feeds in excess of 100 inches per minute. The last portion of this operation was to finish the size of several close tolerance bores including one that is elongated by .030.
The second operation was to locate and clamp from the close tolerance bores to enable completing the part in only 2 setups. Mitee-Bite's ID Xpansion clamps were used for this application. Made of mild steel they can be machined to match the bores. One clamp was machined to match the elongated bore to prevent distortion. The part was then finished machined as in the photo. The photo shows extra ID Xpansion clamps mounted in the fixture.
These are to hold the mirror image part on the same fixture. The end result is odd-shaped parts produced in a timely manner without part movement or vibration because of ridged fixtures. Marty states that Quality Design & Mfg has several other fixtures using Pitbull clamps because of their strong holding force and ultra-low profile.
For more information contact Mitee-Bite Products at 800-543-3580.