SHOWDOWN IN THE DESERT AT THE KOBALT 400!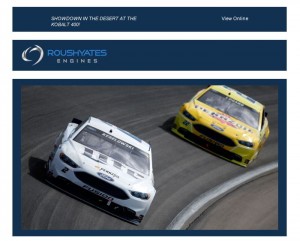 Las Vegas, Nev. (March 7, 2016) – SHOWDOWN in Vegas, delivers a 1 – 2 punch and the first win of the season for Team Penske, Ford Performance, and Roush Yates Engines! As the exclusive engine builder for Ford Performance teams, Roush Yates Engines' powered Brad Keselowski No. 2 to victory lane at the Kobalt 400.
Brad Keselowski No. 2 and Joey Logano No. 22, in the new Ford Fusions battled throughout the day. "Bad Brad" overcame the elements – wind (at 45 mph), rain, sun, sandstorm, pit road speeding penalty, tire and fuel gamble, and it all came down to a showdown in the final laps. With 9 laps to go, Keselowski passed teammate Logano for second and in the closing 6 laps was able to chase down Kyle Busch No. 18 to take the lead and to win the ultimate Las Vegas Jackpot. Logano showed his determination and battled to the very end, overtaking Busch on the last lap to deliver the Team Penske 1 – 2 punch. The Fords led a combined 99 laps in all and the Team Penske drivers showed they were focused for a win.
"This is really, really great," said Brad Keselowski in victory lane. "It seemed like there were plenty of challenges, whether it was pit road or the weather or cautions. They threw everything they had at us today, but this Miller Lite Ford team was too strong and we were able to fight them off and get to victory lane."
This started the West Coast swing off in dramatic fashion and delivered Team Penske their first win this season and their third 1 – 2 finish of all time. What a way to start off Team Penske's 50th Anniversary year! As Brad referenced his boss, "effort equals results."
"Winning the first leg of the West Coast swing, here in Las Vegas is a testament to our team's passion and dedication to being the leader in engine development and collaboration with our great partners Ford Performance and Team Penske", said Doug Yates, President and CEO of Roush Yates Engines.
Roush Yates Engines and Ford Performance engineering teams worked together to develop the optimal performance package for the Ford FR9 V8. Every element of the engine was optimized to contribute to the overall performance and fuel economy. Delivering Ford its 9th overall manufacturers win at Las Vegas Motor Speedway, dating back to the inaugural win in 1998 with Mark Martin, is a testament to their culture of winning.
In 2016, Roush Yates Engines will build engines for 114 races, spanning across 5 premium race series, and covering 9 different countries. This would not be possible without strong partnerships. The accomplishments of Roush Yates Engines on and off the track are the direct result of relationships with great partners like Ford Performance, Mahle Clevite, Cometic Gasket, Universal Technical Institute, Mitsubishi Materials U.S.A., Safety Kleen, Rottler Manufacturing, Mastercam and Mitee-Bite. Roush Yates Engines relies on these products and services every week, as they play a vital role in their continued success.
For more information visit http://www.roushyates.com Like Roush Yates Engines on Facebook, follow Roush Yates Engines on Twitter @roushyates and subscribe to our YouTube channel RoushYates.