OK-Vise® Helps Keep Smith & Wesson On Target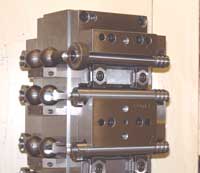 Smith & Wesson located in Springfield, MA is well known the world over, for it's high quality gun manufacturing. It's facility is over 500,000 square feet and they employee in excess of 600 people. Perhaps less known is the Specialty Services division of Smith & Wesson, which does various types of contract machining.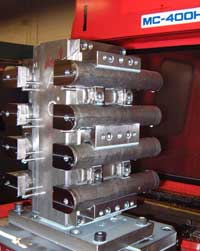 Recently the Specialty Services Division was running jobs for Weatherby Rifle and had some applications of holding radius shaped parts on work cubes for several different work pieces. The difficulty of the set up was to clamp the pieces from the side, so the clamp would not be in the way and not take up too much valuable space. The engineer contacted their distributor, Kenneth Crosby Inc., who realized that because the parts were located in a rest block with a V, that the clamps would need to be wedge clamps with a fair amount of travel. This way the clamp could retract enough to exchange work pieces easily. OK-Vise® clamps by Mitee-Bite Products was chosen because of their compact size and strong holding force of over 6000 lbs. These clamps are self centering which was important to allow equal clamping force on each part. The hardened and ground clamps have a range of expansion of up to .280 which made part exchange easy. One of the jobs was clamping forgings before machining so the serrated edges provided extra grip for better rigidity.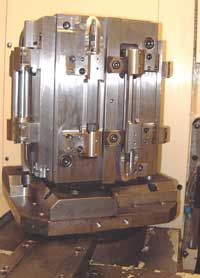 These jobs have been running for some time now without any clamping problems. Steve Wasielewski, Manuacturing Engineer, is pleased with the performance of the OK-Vise® clamps and states that the Speciality Services Division of Smith & Wesson has used these clamps on several other applications with the same results.
For more information contact Mitee-Bite Products at 800-543-3580.