Loc-Jaw® System
Measurements Available: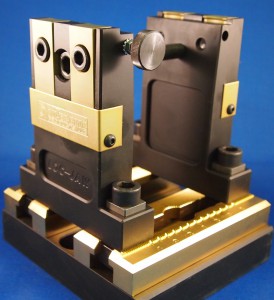 Loc-Jaw® System
The Loc-Jaw® system was conceived to simplify, and allow greater tooling access and more versatility securing your parts when 4th and 5th axis machining. Designed to hold raw stock without a pre-op using the carrier method, penetrating material using the Knife-edge grippers or holding machined surfaces with the Blunt-edge grippers installed.
Unique design allows access to bottom of workpiece
Ability to hold parts from .500″ to 4.00″ or up to 1 Meter with optional extension kit
6,000+ lbs of holding force gripping on only .125″ of material
Knife-Edge grippers designed to penetrate into material up to .060″ deep. Blunt Edge Grippers are also included for non-marring applications. All grippers heat treated A2.
Centering Disk included for Loc-Jaw® base
Set of locating pins included. (Liners installed in base)
Blunt-edge grippers with #2 or #3 grit carbinite coating are recommended for high speed machining on hard alloys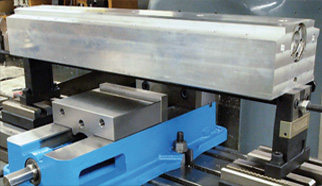 Using Extension Kit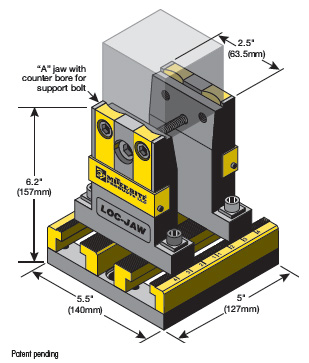 PATENT #9,216,484
Torque
(Ft-lbs)
Holding Force
(lbs)
10
2,000
15
3,000
20
4,000
25
5,000
30
6,000
*Max torque of 25 f. lbs.
using Knife Edge grippers
on material > 40Rc due to
point contact.

Part
Number
Description
14500
CAD
Loc-Jaw® System
Ships fully assembled with all tools required
14525
CAD
Loc-Jaw® Extension Kit
Includes base plate with rails, threaded rod 1 meter long, and
locking nut with spacer
Replacement Parts
Part
Number
Description
14501
Loc-Jaw® Support Bolt #1 (M10 x 45mm)
14502
Loc-Jaw® Support Bolt #2 (M10 x 65mm)
14503
Loc-Jaw® Support Bolt #3 (M10 x 90mm)
14504
Loc-Jaw® Support Bolt #4 (M10 x 110mm)
14508
Loc-Jaw® Combo-Edge Grippers (2 per pack) – 1 side knife edge,
1 side blunt edge with Tungsten Carbide coating
14518
Loc-Jaw® Jaw Set – includes 2 Jaws, 4 Combo-Edge Grippers & Screws
14520
Loc-Jaw® Rail Set – includes 4 rails, Screws, Dowel Pins
Applications
Have a technical question about our products? Ask our engineers!