Multi-Power Vac
Measurements Available: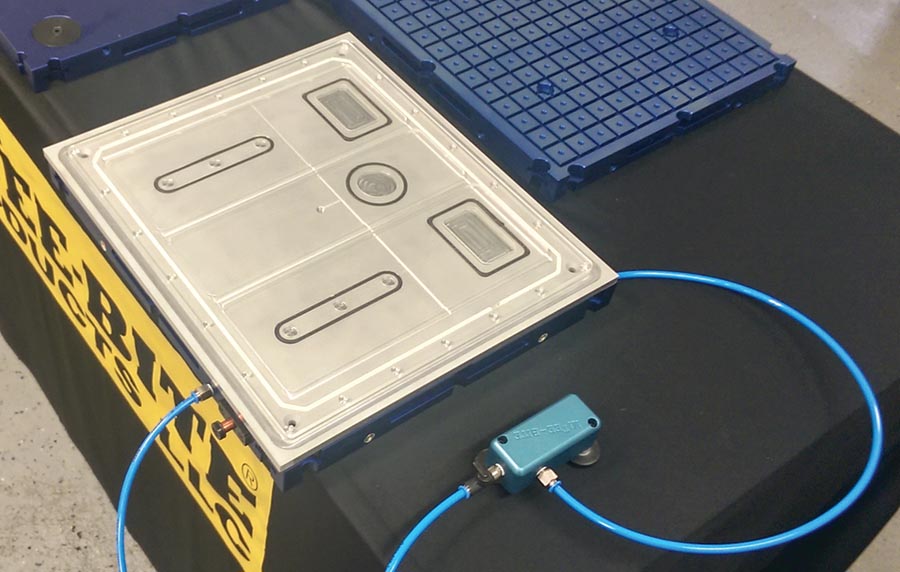 Mitee-Bite is proud to introduce possibly the most universal multi-functional vacuum system in today's market. This system has several unique features to meet your vacuum workholding needs.
Can be powered with our Vacuum Generator (Shop Air) or Vacuum Pumps
14″x 16″ with textured surface creating additional holding force through friction
4 Vacuum ports allowing user to hold 1-4 small parts or 1 large part (ports can be plugged)
Grid plate tapped with M6 threads allowing multiple workholding solutions
6 oversized steel washers machined below the bottom surface allows unit to be used for grinding operations on a magnetic chuck
Multiple Vacuum Generators can be used on each pallet if additional CFM is desired
Multiple pallets can operate from (1) vacuum generator
Coolant Trap may be necessary when using external vacuum source (Trap sold separately)
| Part Number | Description |
| --- | --- |
| 46000 | 1 Multi-Power Vac pallet with Vac Generator including all accessories and coolant trap |
| 46100 | Vac Generator with regulator/tubing/brass filter and push to connect fitting |
| 46200 | 1 Multi-Power Vac pallet without Vac Generator including mtg. hardware and tubing |
| 46250 | Sacrificial Top Plate with mtg. screws |
| 46050 | Coolant trap with hose and fittings |
| 46300 | Vacuum pump 115 Volt. Comes with hoses and coolant trap |
| 46330 | Vacuum pump 230 Volt. Comes with hoses and coolant trap |
Applications
Have a technical question about our products? Ask our engineers!